Talk Like A Pirate Early Warning
Wednesday, August 19, 2009 7:20 | Filed in
Memes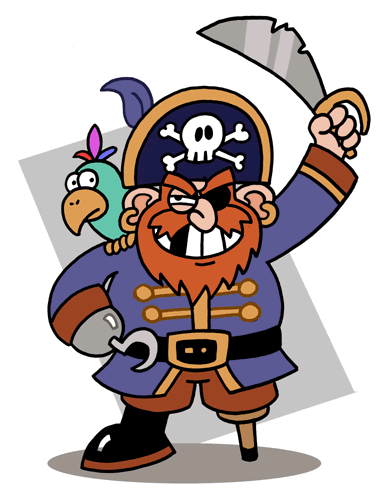 Don't forget, September the 19th is officially Talk Like A Pirate Day. Please do consider blogging your pirate talk and there are a number of resources available to ensure that your talking like a pirate goes smoothly.
If you don't know your belayin' from yer Avast, me hearties, you can head over to the Pirate Glossary where you can learn all of the terms properly, so you don't embarrass yourself and end up getting a taste of the cat or kissing the gunner's daughter.
If you're not sure what sort of a pirate you be, you can take the Pirate Personality Quiz, determine the name of your pirate ship using the ship name generator and there are a couple of different methods you can use to determine what your pirate name is.
Remember to get all of this up and running so that when the time comes and it's September the 19th, you can show your pirat-i-tude.
And, if you want to also consider something serious for a moment (me hearties), there's the UK Pirate Party which is a properly registered UK political party wanting to reform copyright law and end a lot of surveillance. These are all very noble goals, so it might be worth taking a look and seeing if it grabs your fancy (aar!) but it does have to be admitted that they don't say "yo ho ho" very much, and there is a distinct lack of policies on two of the main pirate areas: grog rations, and exactly how many men should you ideally have on a dead man's chest.
You can follow any responses to this entry through the
RSS 2.0
feed.
81 Comments to Talk Like A Pirate Early Warning