Decade Bug: Consultancy Services Available
Some of you may remember that, ten years ago, there was some concern that all of the computers in the world would crash, melt down, catch ahad, and generally civilisation would come crashing to a halt, and there would be gangs roaming the streets in a post-apocalyptic future with only Max Rockatansky to stand between us and the biker gangs. Or something like that, anyway.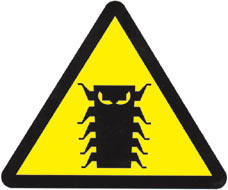 And you may have noticed that this didn't actually happen. For the most part, legions of dedicated and intelligent computer programmers worked round the clock to try to persuade computers that it wasn't suddenly going to become 1900 overnight.
Since 2000 the world of IT has continued apace: most of us now live in very much a broadband world, not only are we on Facebook, but we've also made 'friends' with our parents and children (although whoever thought that making inter-generational spying easier was a good idea probably deserves a kick), and some of us have even joined the twitterati. More and more of us have taken up blogging, and some people even have useful things to say from time to time.
Obviously I try to avoid this: my blogging is, for the most part, a personal thing. It's for my amusement. If what amuses me happens to amuse anyone else, or something that I am interested in is educational for someone else, then this is indeed a good thing, but that's not what I'm doing it for.
So, given that so much has changed in the last ten years, it's only fair to warn you all about the impending decade bug. The Millenium Bug was caused by computer programs which only held the year as a two-digit year, and so when "99″ clicked around to "00″, there was nothing to say which century we were in.
The Decade Bug works on precisely the same principle. Any computer program written since 2000 which only stores the year as a single digit will have exactly the same problem — as 2009 clicks over to 2010, the year stored as a single digit will click back from 9 to 0, and all of these computer programs will stop working.
Obviously, if these have been used in nuclear power stations, civil aviation and so on, then we'll face the same sort of apocalyptic meltdown which we narrowly avoided at the end of 1999. I would also suggest that this might also cause significant problems for in-car sat-nav who might be unable to tell whether or not certain roads have yet been built, whether or not they are actually suitable for motor vehicles or are in fact train tracks, but from the stories I have heard, most drivers probably wouldn't notice any difference.
If you have any concerns about the decade bug, and you'd like to employ my consultancy services to cope with the likely consequences of the decade bug, I'd suggest that you contact me today. Obviously, once the decade bug has triggered, I would imagine that it will be much more difficult for me to slot you into my schedule, so I'd suggest that you engage my services as quickly as possible, before you realise this is all a load of rubbish I'm fully booked.
You can follow any responses to this entry through the
RSS 2.0
feed.
40 Comments to Decade Bug: Consultancy Services Available