Emergency Web Updates Are Snow Joke
Right: let's just get this straight. On Tuesday night, overnight, there was what is known in meteorological circles as a ruddy great lot of snow over North-East England. As this was expected, according to the forecasts, when I'd picked up Bigger Lad from school on Tuesday, I asked his teacher whether I should check the school website in the morning to see if the school was closed and she said that was probably a good idea as she didn't know at that point whether the school would be open.
Since then, I have found differing services advising of snow-related disruption to be of somewhat variable quality, so I thought I'd look specifically at Bigger Lad's school, my Local Authority, and Go North East, the local bus company, and tell you what precisely I've thought about their updates.
Success
So at seven a.m. on wednesday morning, I checked the school website to discover a message informing me that the school was closed owing to the fact that the staff couldn't get in. By about eleven p.m. on wednesday evening, they had already updated the site to inform parents that the school would also be closed the following day.
Timely, useful updates. Well done.
Failure
Of course, my local council wasn't quite so quick on the uptake… with their severe weather page stating (as at 09:10 on Wednesday morning — in other words some time after the time at which children would be required to be at school):
Are any schools closed due to the adverse weather?

No. At present, all schools are open as normal.

Local Authority
I was a little incredulous that this information had not been updated — the BBC had managed it easily enough, and after all, by half past eight, people will be setting off for school so if you are unable to update the information by then you are not capable of being a source for that information, so I mentioned it online. It was updated with school closures by 09:30, and there was also a tweet at around 09:40 but by then the information was too late to benefit anyone.
I was even more shocked when someone responded informally to tell me that they would be updating this information as soon as they got into work — but it might take them a little time to get in, because of the weather conditions.
WTF? Surely if your plan for extreme weather conditions is to tell the public about the extreme weather causing transport disruption and/or school closures only after your staff have made it into work then it is very seriously flawed. I'm sure you can all work out for yourselves the flaw in this.
They did manage to improve it considerably over the course of the day, putting in a list of all schools and their open status for Thursday and Friday (or at least, as far as they were aware) and for that reason I've refrained from publicly naming them.
The Snow Updates Medal: Success
However, I think that the most credit probably deserves to be pushed in the direction of the local bus company Go North East. Their website suggests that you head over to their Facebook page for the latest updates on bus services. The Facebook page was updated with thirty-four separate updates on Wednesday 6th.
And it's not just been one way traffic either: Go North East actually have grasped how social media is supposed to work and have responded to people who have made comments: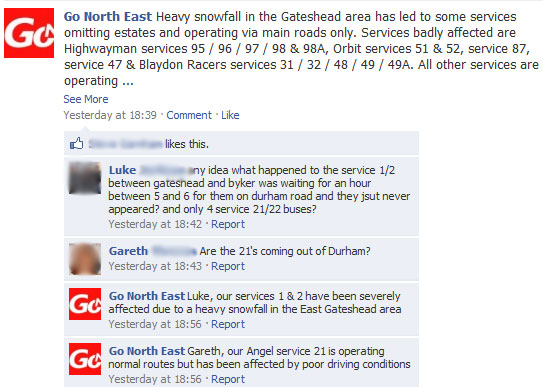 As you can see, when Luke and Gareth have asked further questions, Go North East have not only responded to their enquiries (which many organisations seem to forget is part of the expectation of social media — it's not a one-way communication broadcast, it's a conversation) but they have responded to those enquires — made outside normal office hours — within fifteen minutes. Now that's impressive. And so for me, the people responsible for Go North East's social media streams deserve my award for the best snow-related updates.
Mind, that doesn't help you a great deal if it turns out your route is one of the ones currently off!
Aside
It's important to remember however that not necessarily everyone has internet access (although the vast majority do) and so the information about things such as school closures and travel disruption should be made as widely available as possible — lots of people will still expect to hear these things on local radio, whether or not Tony Horne likes it — although he does make a point (which I made last year) that if schools are able to text (or otherwise directly inform) parents, this is probably preferable.
The key thing is to make the information available to people through the channel they want, not the channel you want to feed them…
You can follow any responses to this entry through the
RSS 2.0
feed.
159 Comments to Emergency Web Updates Are Snow Joke