Talk Like A Pirate 2009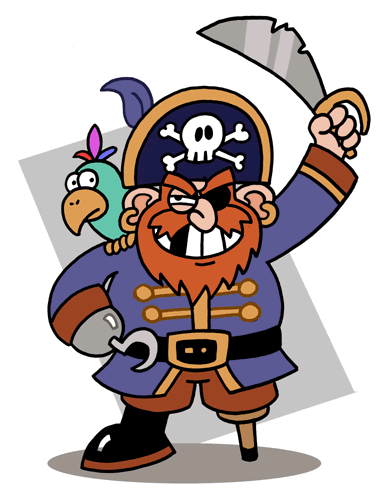 Ahoy there, ye scurvy swabs. Many of ye, me hearties, will already know that it be International Talk Like A Pirate Day today where ye has to talk in the pirate lingo as much as is possible.
Anyone failin' to talk like a proper swashbucklin' buccaneer will find themselves consigned to Davy Jones' Locker after being made ter kiss the gunner's daughter and possibly bein' keelhauled an' all, or my name's not Captain James the Silver of the good ship Turbulent Cadaver.
It's the time of year us pirates git together ter discuss the critical issues of the day: how many man can you git on a dead man's chest? We've managed sixty three, but admittedly we did have to snap some of the rib-bones off ter git a bigger surface area for me dastardly crew to stand on. Took a while to get the fo'castle cleaned properly that day, I kin tell you. I was whippin' away half the afternoon to get the salty seadogs that make up me crew to get it sorted.
Now, if ye'll excuse me, I've got ter go and set the black spot on a piece o' landlubbin' scum who never paid back the doubloons he borrowed off o' me. And I need to get the Turbulent Cadaver into dock anyway. There's a problem with the mizzen mast. It broke off in a blow, and now it's mizzen'. And don't forget to shiver yer timbers, lads. And not just lads: Cap'n James the Silver is always prepared te offer any lusty pirate wenches a warm welcome… and something more besides.
Finally, I'll leave you with a joke I've pinched from Mr. Conyard in the dockyard:
Q. How can you tell if yer a pirate?
A. You just arrrrrr
[Anyone wanting the pirate image for their own purposes is welcome to use it, but please don't hotlink to it - take your own copy and don't leach my bandwidth. It is by J.J. McCullough, who has released it into the public domain. You can find a much larger, better version of the image at file:piratey on Wikipedia.]
You can follow any responses to this entry through the
RSS 2.0
feed.
47 Comments to Talk Like A Pirate 2009